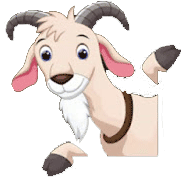 BakraOnline.pk
Animal Mandi Pakistan to Buy Qurbani Janwar

Aqiqah, Aqiqa, Aqeeqa, Aqeeqah Bakra Sale in Islamabad Rawalpindi
Aqiqah, Aqiqa, Aqeeqa, Aqeeqah ( عقيقة) is the Islamic tradition of the sacrifice of animals on the occasion of a child's birth. It is widely performed by Muslims and it is considered sunnah to slaughter one Goat for the baby girl and two Goat for the baby boy. In Pakistan, people sacrifice Bakra for Aqiqah. Some people give the Aqiqah party to their relatives and some people devide meat to their relatives and people in the sorroundings. You can give us call to get bakra / goat for Aqeeqa at your door step. Cash payment at your doorstep is acceptable at the time of delivery. This home delivery service is only available for Rawalpindi / Islamabad and near areas.

So please offer Sadqa.
Aqiqah Goat, Aqiqa, Aqeeqa, Aqeeqah Bakra for Home Delivery in Islamabad and Rawapindi

Rate / Price per KG 1000 Rs. / Home Delivery Charges 1500 Rs.

Price for only Maidani / Desi Bakra's (No Pahari Bakras)

20 KG Aqiqah Bakra

20,000 Rs. + 1500 Rs. Delivery Charges = 21,500 Rs.

25 KG Aqiqah Bakra

25,000 Rs.+ 1500 Rs. Delivery Charges = 26,500 Rs.

30 KG Aqiqah Bakra

30,000 Rs.+ 1500 Rs. Delivery Charges = 31,500 Rs.

Trained Butchers are available at the rate of 2000 Rs. per Goat for Aqiqah Goat at your door step in Islamabad and Rawalpindi only throughout year except Eid days. Qasai is not available for Eid ul Azha 2020 due to rush.
We deliver animals direct from our Animal Form House to your location in Rawalpindi / Islamabad.
As per Islamic Rules, Aqeeqa Goat are available of 2 or more teeth
Aqiqah Bakras above rates are not applicable in the season of Eid-ul-Azha, because of Eid, rates becomes high in that season
Sadqa Bakra Services are not available in the season of Eid-ul-Azha (1 month before Eid till Eid)