Sadqa, Sadaqa Bakra Sale in Islamabad Rawalpindi
Sadqa is a form of charity with special intention and for special purpose. Sadaqa proves to be a defence shield for your life & property and for those on whose behalf it is given. Sadqa is a kind of charity in Islamabad. Best charity is animal charity, a bakra charity. It prevents all sorts of un-expected worries, anxieties, tensions, troubles and also gives spiritual power to boost early recovery from variety of illnesses.

So please offer Sadqa.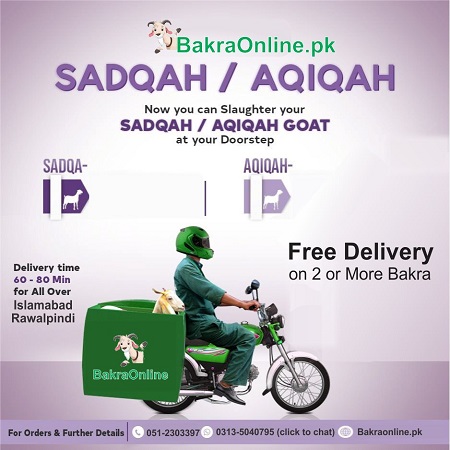 Sadqa Bakra 2023
Goats are often given as Sadqa and for performing Aqiqa. Goats are expensive in animal markets and in order to facilitate people intending to offer goats as Sadqa.

Some people like to perform goat slaughter by their own hands or in their presence in a Madrasa or Charity organization.

You can give us call to get Sadqa bakra / goat at your door step. Cash payment at your doorstep are acceptable at the time of delivery. This home delivery service is only available for Rawalpindi / Islamabad and near areas.

People intending to give bakra for Sadqa but live far away from Rawalpindi and Islamabad, can only order for delivery their choice of Charit / Madrasa. We can send them the picture taken at the time of slaughter.
Sadqa/ Sadiqa Bakra for Home Delivery in Islamabad and Rawapindi

Rate / Price per KG 1200 Rs.

Home Delivery Charges 1500 Rs. for near locations (with 5 km radius of our office)

Free Delivery for ordering 2 or more bakras within 5 km radius of Khanna pul, Islamabad

Extra Delivery charges may applicable for far away locations.

Pay at least 5000 Rs. per bakra at the time of booking, rest can be paid on delivery at door step.

10 KG Sadqa Bakra

12000 Rs. + 1500 Rs. Delivery Charges = 13,500 Rs.

12 KG Sadqa Bakra

14400 Rs. + 1500 Rs. Delivery Charges = 15,900 Rs.

15 KG Sadqa Bakra

18000 Rs.+ 1500 Rs. Delivery Charges = 19,500 Rs.

20 KG Sadqa Bakra

24000 Rs.+ 1500 Rs. Delivery Charges = 25,500 Rs.
We deliver animals direct from our Animal Form House to your location in Rawalpindi / Islamabad only.
Sadqa goat can also be delivered to your selected charity / madrasa etc. We can whatsapp you receipt and picture after delivery to your choosen charity / madrasa.
We can deliver your bakra sadqa charity for free to our nearest Madrasa in Khanna pul area. For your desired charity / Madrasa, delivery charges applicable.
Sadqa Bakra Services are not available in the season of Eid-ul-Azha (1 month before Eid till Eid)
Contact US
You can contact us at our numbers for animal availability:

Landline Contact Phone Number: 051-2303397

Whatsapp Chat only: 0313-5040795 (click to chat)

Booking Office: Computer Plaza, Service Road, Ground Floor, Khanna Pul, Islamabad

Delivered from Farm houses or coordinating agents to direct to your location / charity.

Call only between 9:00 AM morning and 5:30 PM evening PST (Pakistan Standard Time), or send your message via Whatsapp, we will reply you as soon as possible.
We are not like chhipa, edhi, alkhidmat, saylani, almustafa etc, because they do not give you bakra / goat, neither show it to you. We deliver bakra at your door step, you can see it and you can weight it as per your order. You can give to anybody you like yourself or we can get it delivered for you to a NGO, Madrasa, orphanage. We not only share you picture of your animal sacrifice at slaughter time but also share you acknowledgment receipt as well.
We care about your feelings and your 100% satisfaction is guaranteed.